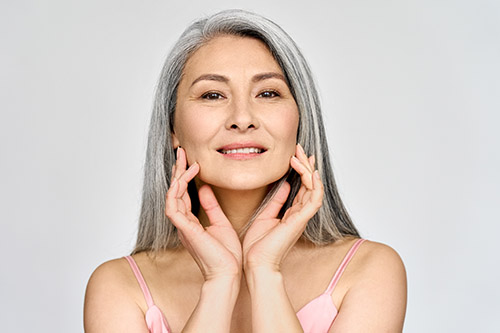 What results can you expect with Radiesse®?
Immediate correction through support, shape and definition to restore facial contours.
Skin is strengthened from within as Radiesse® stimulates skin cell activity and the formation of collagen and elastin. The restored skin structure results in a smoother, more tightened effect.
How long the effect of a Radiesse® treatment lasts is dependent on the individual. There are many factors to consider, such as the structure of the skin, your lifestyle and age.
Who Should Not Receive Treatment with Radiesse®?
Treatment with Radiesse® is not recommended for use in pregnant or lactating women, anyone with a history of an allergic reaction to the drug or any of its active ingredients, as well as any infected or inflamed skin, bleeding disorders, and individuals with a tendency to produce excessive scarring such as keloids and/or hypertrophic scars. Please inform us if you have or are experiencing any of the mentioned conditions.
Side Effects of Radiesse® Treatment
Recognized side effects include bruising, redness, swelling, firmness, lumpiness, pain, itching, discoloration and tenderness/discomfort. These possible side effects are usually mild and related to the procedure. Most are short-term and resolve within a couple of weeks. There is also the potential for skin irregularities, asymmetry, nodules and damage to underlying structures.
Rare but serious adverse events have been reported. All cases are managed under physician care and proper attention is given to resolution and/or treatment. Medical attention may be required to resolve complications associated with this treatment. Radiesse® cannot be dissolved with any enzyme (such as the enzyme hyaluronidase which dissolves HA based fillers).
This is not a complete list of side effects. For more information, please see product monographs.
**Please contact the clinic immediately if you experience side effects beyond one week or have severe pain, blisters or scabs in the areas injected or beyond the area of injection. We can be reached at: 519-266-3642 or [email protected].
If you are experiencing an URGENT medical emergency such as anaphylaxis, shortness of breath or severe swelling, please call 911 immediately.