Look younger and refreshed with Botox Treatment. These non-invasive injections target deep wrinkles and fine lines while leaving your natural expressions intact.
Why Botox Treatment?
At Beauty Within, we offer treatment with Botox Cosmetic®, a well-known brand of Botulinum Toxin (OnabotulinumtoxinA). This treatment is the most commonly performed cosmetic procedure in the world and has been approved to address moderate to severe lines in the frown (glabella), around the eyes (lateral canthal lines) and horizontal lines across the forehead.
Botox® was first approved for medical use in 1989 to treat strabismus (misalignment of the eyes) and facial tics. It is also used to treat other medical conditions such as muscle spasms, chronic migraine, excessive sweating and urinary incontinence. In 2002, it was approved for the cosmetic use!
Botox Cosmetic® (onabotulinumtoxinA for injection) is made by Allergan, the world leader in medical aesthetics. Allergan has over 60 years of experience in stringent product manufacturing. Health Canada approved, this treatment is provided only by trained and experienced health professionals.
What can be treated with Botox?
Botox Cosmetic® is a muscle relaxant that is injected into the muscles. It works by partially blocking the nerve impulses to any muscles that have been injected and reduces excessive contractions of these muscles. This gives the overlaying skin time to smooth and relax as well, thus softening and preventing wrinkles from forming.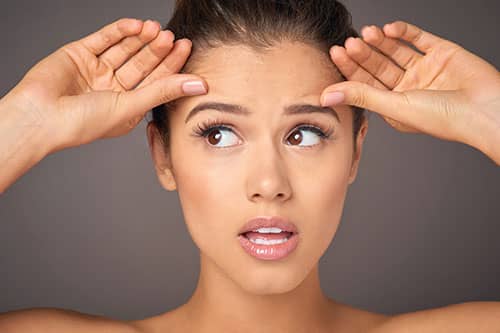 Botox injections (both on-label and off-label) are used to treat:
Vertical frown lines
Horizontal forehead lines
Chemical brow lift
Crow's feet
Bunny lines on nose
Vertical lip lines
Neck lines
Downturned mouth corners
Dimpled/pebbled chin
Gummy smile reduction
Masseter reduction (jawline slimming)
Minor facial expression asymmetry
Please note: Botox injections will NOT treat lines made by sun damage, gravity or by sleeping position/pressure on the face.