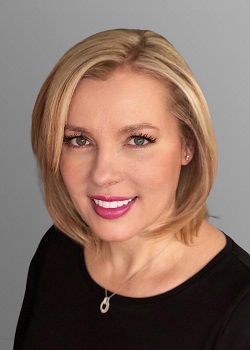 Dr. Maria Tetelbaum
BScHon, MD, CCFP, FCFP, Medical Director
Dr. Maria Tetelbaum received her medical degree in 1995 from the prestigious Carol Davila University of Medicine and Pharmacy in Bucharest, Romania. Following completion of her residency in Pediatric Neurology in 2001, she and her family immigrated to Canada, where she continued her education with a fellowship in Clinical Pharmacology and Toxicology at the University of Toronto. In 2007, Dr. Tetelbaum graduated from the Family Medicine residency program at the University of Western Ontario (UWO). She also holds an appointment as an Adjunct Professor in Family Medicine at UWO.
In 2010, together with her husband, Dr. Octavian Tetelbaum, dentist, following their dream, Dr. Maria Tetelbaum built Synergy Centre - a multidisciplinary healthcare centre. She opened her own private family practice here. Her passion for art, beauty, science and medicine led Dr. Tetelbaum to further obtain certification in Medical Aesthetic procedures. With over 10 years experience in aesthetic medicine, combining attention to detail, indepth knowledge of anatomy and pharmacology, as well as a passion for art, Dr. Tetelbaum offers her patients the most advanced, safe and high quality aesthetic treatments - helping them enhance their natural beauty- the "beauty within".
Ongoing learning, professional development and a passion for the medical aesthetic field led Dr. Tetelbaum incorporate the innovative filler injection technique of MD Codes™, developed by Dr. Mauricio De Maio, plastic surgeon from Brazil. Through this, Dr. Tetelbaum can offer natural, beautiful, realistic results, that are predictable and reproducible and take into consideration the patient's feelings and desires.
Dr. Tetelbaum obtained a Fellowship with the College of Family Doctors of Canada and completed a course in Practical Dermatology at Cardiff University, UK. Dermatology has been of special interest for Dr. Tetelbaum for many years and is a great complement to both Family Medicine and Medical Aesthetic practice. Dr. Tetelbaum is enrolled in a trainer's program with Allergan Aesthetics, AbbVie, a leading medical aesthetic company, producer of Botox and Juvederm dermal filler. She is a member of the Canadian Board of Aesthetic Medicine and the American Academy of Aesthetic Medicine.
Dr. Tetelbaum believes that any aesthetic treatment should complement who you truly are and welcomes you in a warm and supportive environment where, through assessment, education and non-invasive anti-aging treatments, will help you look as young as you feel.
---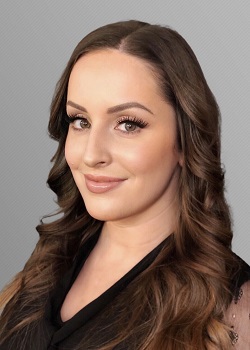 Amanda Cook, RN, BScN
Cosmetic & Therapeutic Nurse Injector
Amanda graduated from the University of Western Ontario (2011) with a Bachelor of Science in Nursing. She has well-rounded experience in public health, mental health, hospital/acute care, case management, and cosmetic/aesthetic injecting. Aesthetic medicine quickly became a passion for Amanda, leading her to dedicate years of her studies, training and practice to the aesthetic field.
Amanda has received high level training within the aesthetic medicine field, successfully completing many advanced courses, certifications and attending conferences throughout Canada. Amanda is certified through Allergan® in both the cosmetic and therapeutic (Chronic Migraine, Hyperhidrosis) applications of Botox®, as well as has extensive experience using Hyaluronic Acid based fillers. She applies the most advanced and up-to-date injection techniques, including the MD Codes™ approach created by world-renowned cosmetic plastic surgeon, Dr. Mauricio De Maio.
Amanda also specializes in skincare, ranging from medical grade skincare products to skin rejuvenation using platelet rich plasma (PRP) and micro-needling. She also provides PRP therapy for hair restoration.
Amanda spends a significant amount of her own time researching and learning about the latest developments in the aesthetic field. She also enjoys reading, staying active and spending time with family and friends.
Amanda is a member in good standing with the College of Nurses of Ontario, Registered Nurses' Association of Ontario, and the Canadian Nurses' Association.
She is also a member of the International Society of Plastic and Aesthetic Nurses, Canadian Board of Aesthetic Medicine, and the Canadian Society of Aesthetic Specialty Nurses.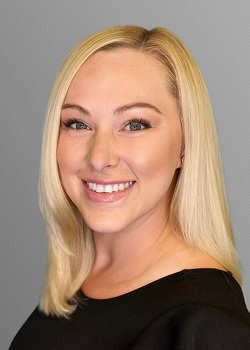 Shauna Forde, BA
Medical Aesthetics Administration
Shauna graduated from the University of Windsor (2009) with a Bachelor of Arts and a specialization in Communication Studies. She also holds a Certificate with Honours (2007) from St. Clair College in General Arts and Science.
Shauna was born in Halifax, Nova Scotia and raised in Chatham, Ontario. She moved to London, Ontario after completing her Bachelor's Degree at University of Windsor. After working in the insurance industry for several years, she changed her career path to focus in the health care industry. Shauna soon discovered her fascination and passion for aesthetic medicine, skin health, cosmetics and medical grade skincare.
Shauna is very passionate about providing top notch patient care and a high standard of customer service in every role she has held. She brings forth a positive attitude and is always eager to learn and be the most current/up to date in her field. Shauna participates in continuing education in the field of skin health and medical grade skincare. She has been an Administrative Assistant in the skincare industry for over 5 years and a Medical Administrative Assistant in the health care field for over 8 years.
Shauna enjoys spending time with her young daughter - either swimming, playing board games together or visiting with friends and family.
Shauna looks forward to utilizing and expanding her skill set to best serve the patients and team of Beauty Within. With over 20 years of providing excellent customer service, Shauna's experience combined with her pleasant personality shines through!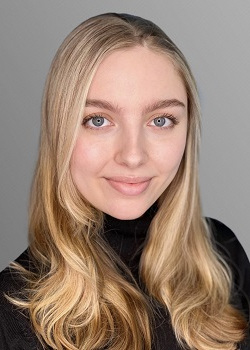 Emma Tetelbaum, BSc
Beauty Within Business Administration
Emma graduated from the University of Western Ontario (2021) with Bachelor of Science, Major in Biology and Minor in Mathematics. She has been working part time at Synergy Centre as a receptionist since 2016 and was involved with many Medical Aesthetic functions and events.
With her mathematical knowledge, Emma took additional courses in business from Ivey School of Business, London, ON, and now is part of Synergy Medical Aesthetic team, managing the books, analytics, helping direct the marketing and business planning.
Currently, Emma is studying dentistry at Touro College of Dental Medicine, in New York, in hopes of coming back and working with Dr. Octavian Tetelbaum and develop a combined Cosmetic Dentistry and Medical Aesthetic clinic, for "total makeovers". She provides remote business assistance to help developing and advancing the Medical Aesthetics practice.
Emma enjoys volunteering at different community functions, participating in sports, and hosting art-related events. In her spare time, you can find her swimming and spending time with her friends and family.