Why Filler Treatment?
Are you looking for a more youthful, brighter appearance without the need for surgical* intervention? Unlike surgery, the effects of dermal fillers are not permanent, allowing you to explore aesthetic options without being tethered to the results for life. *Dermal fillers are not a replacement where surgery is indicated.
At Beauty Within, we offer treatment with Juvederm®, the #1 collection of dermal fillers in Canada.
Juvederm® is a smooth, clear gel formulation of cross-linked hyaluronic acid that is specifically formulated to act like your body's own natural hyaluronic acid, but lasts longer. Juvederm® diminishes moderate to severe wrinkles and adds volume to your face, providing a more youthful appearance.
Juvederm® is made by Allergan, the world leader in medical aesthetics. Allergan has over 60 years of experience in stringent product manufacturing. Health Canada approved, this treatment is provided only by trained and experienced health professionals.
What can be treated with Dermal Fillers?
There are two common signs of facial aging that dermal fillers are designed to effectively address: wrinkles and volume loss.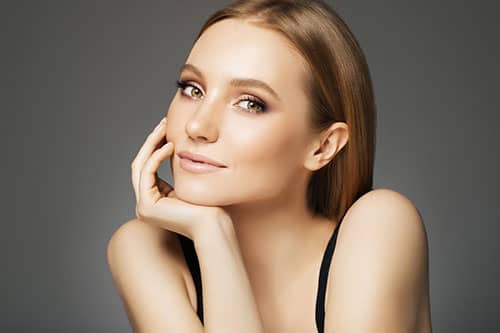 Dermal fillers are used to:
Improve the appearance of deep lines and wrinkles
Smooth unwanted fine lines
Diminish hollows/dark circles beneath the eyes
Augment a receding or small chin
Add volume or definition to lips/smooth vertical lip lines
Treat acne scars
Enhance facial contours such the jawline, temples and cheeks
Reduce lines between the brows
Improve facial asymmetry